Whether it's our extensive product line of healthy seating options, knowledgeable customer service staff, or our unparalleled quality, we're sure you'll find something that will allow you to Work and Live in Comfort.
Crown Seating Collections
We pioneered "humaneering" to encourage everyone to understand that, "One size does not fit all."
We firmly believe that ergonomics is not just some buzzword to be used in marketing brochures, but is the founding principle of all of our research and design projects.
We believe that "humaneering," engineering that fits the human body rather than designing just to have something new, is critical to moving the benchmark higher.
This is why Crown seating is the leader in all dental and medical seating providing unmatched ergonomic support and comfort for all users of all sizes and heights.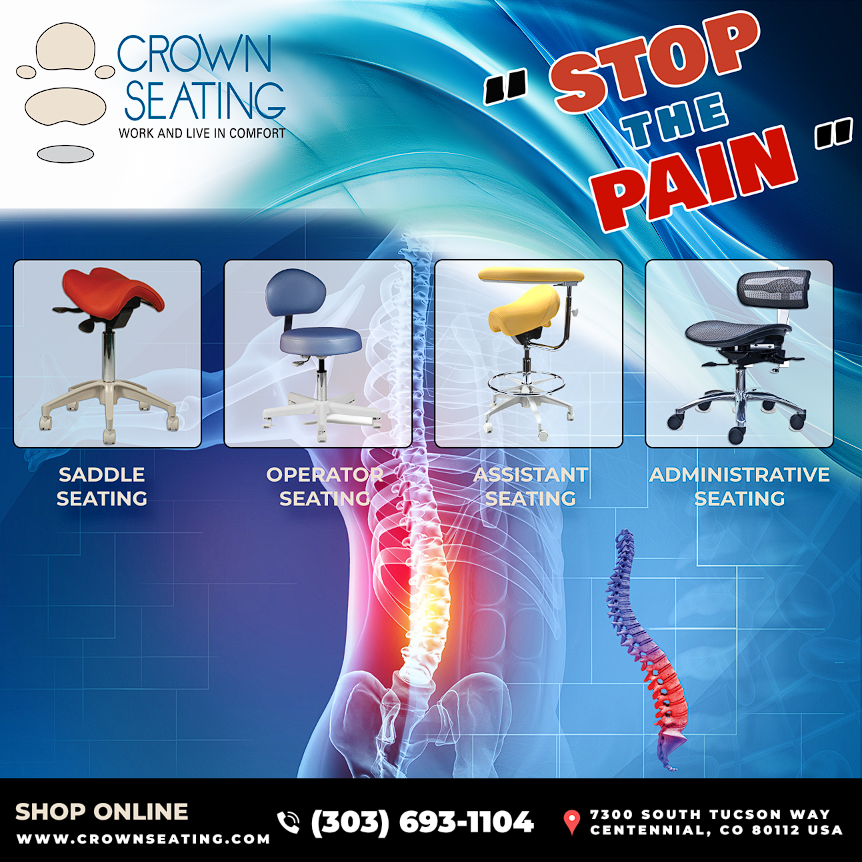 At Crown Seating we understand every facet and the science behind healthy seating options. 
When you think of ergonomic seating, an office chair may be the first thing that comes to mind. But there are a variety of ergonomic seating options available that can provide comfort and support for people who experience pain or discomfort while sitting. For example, many people find relief from back pain by using an ergonomic traditional seat with a supportive backrest that supports the spine. Others may prefer an ergonomic saddle seat, which helps to take pressure off the lower back and improve posture. And for people who spend long hours sitting while working on a variety of surfaces and on patients By choosing the right ergonomic seating option, you can help to reduce discomfort and improve your overall wellbeing.
Ergonomic seating options are essential for any workspace. Not only do they improve comfort and support, but they also help to reduce the risk of injuries. When choosing an ergonomic saddle or traditional chair, The user is the most important piece to raise and lower yourself to the most comfortable positioning. By taking the time to find an ergonomic chair that suits your needs, you can help to improve your overall comfort and productivity.
What Our Clients Say About Crown Seating
"These are not just simply stools or chairs. These are tools and investments in our careers. With Crown Seating I have been able to do what I love, Longer and more comfortable."
"Crown is the best! There is so many options for stools but you get what you pay for. The quality, Customer service and Comfort cannot be beat. Your body will thank you for your purchase everyday!"
"Crown Seating Assistant stools are tools. This is the best tool you can get that will last forever. I love all the options, colors and styles. The comfort of a Crown Seating Dental stool is amazing."